Festival of Singing - Cymanfa Ganu
Sun 23 Oct 2016, 02:00 pm
Sun 23 Oct 2016, 03:30 pm
Festivals,Community,Cultural Ethnic,Music
Festival of Singing - Cymanfa Ganu
the Wellington Cathedral of St Paul, Molesworth Street
Wellington.
Wheelchair access, Accessible toilets, Mobility parking
$ 10 per person secures a a song book on entry
The Welsh Society of Wellington
Held at the Wellington Cathedral of St Paul.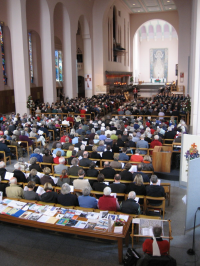 Festivals of singing are an institution in Wales, almost as popular as Male Voice Choirs. They are normally held in Churches or Chapels and provide the congregation with an opportunity to sing in an impromptu choir of nearly 1,000 voices. The songs are popular Welsh hymns, sung in Welsh or English (your choice) to traditional Welsh tunes. It is not a devotional service.