Easter in the City
Sun 16 Apr 2017, 11:00 am
Sun 16 Apr 2017, 01:00 pm
Community, Spirituality Religion,
Grass area beside VTNZ
841-851 Fergusson Drive
Upper Hutt
Wheelchair access, Accessible toilets, Mobility parking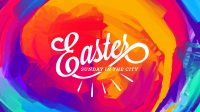 Join us as 9 different churches from across Upper Hutt gather for an interactive and family friendly outdoor Easter Service.
There will be live worship music, a kids programme and an engaging message from 11am - 11:45am.
Free food & drinks, face painting, family fun activities, games and bouncy castle from 11:45am - 1pm.
For more info find us on Facebook at https://www.facebook.com/eastersundayinthecity/
We invite you to come and celebrate with us.