Chromacon Indie Arts Festival
Sat 08 Apr 2017, 10:00 am
Sun 09 Apr 2017, 05:00 pm
Arts Culture, Festivals, Visual Arts,
Aotea Centre
50 Mayoral Drive
Auckland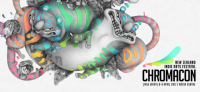 CHROMACON (8 - 9 April 2017) is a non-profit biennial indie arts festival based in Auckland that celebrates the coming together of creativity, artistic excellence and community.
Free to enter, Chromacon connects all New Zealanders with the best homegrown illustrators, comic artists, designers, animators, game developers and more!
Following on from two successful runs in 2013 and 2015, Chromacon has grown to become one of Aotearoa's premier visual arts festivals as well as one of the best local events on Auckland's calendar.
Chromacon 2017 will feature:
- Over 100 local creators, illustrators, comic artists, designers, animators, sculptors, game developers and other creatives personally showcasing their work to the public.
- CHROMACADE: our new dedicated interactive zone for indie games.
- CHROMA CONNECT: a creative symposium running alongside the Festival with industry sessions aimed at professional development.
- Screenings, live drawing and painting demonstrations.
- Artist talks, discussion panels and Q&A's.
- Games and interactive activities in and around Aotea Square.
For more info about Chromacon 2017, check us out @:
- http://www.chromacon.co.nz/
- https://www.facebook.com/ChromaconNZ/
- https://twitter.com/chromacon
- https://www.instagram.com/chromaconnz/
- Kickstarter: http://kck.st/2n7sCaF
Event Dates
Sat 08 Apr 2017, 10:00 am
Sat 08 Apr 2017, 05:00 pm
Sun 09 Apr 2017, 10:00 am
Sun 09 Apr 2017, 05:00 pm